Curbside Pickup in Newport, RI
Let Our Family Serve Yours, At Home!
We are now offering curbside pickup to guests during all hours of service. We take pride in our food and package every takeout order with care. Please call us with any questions.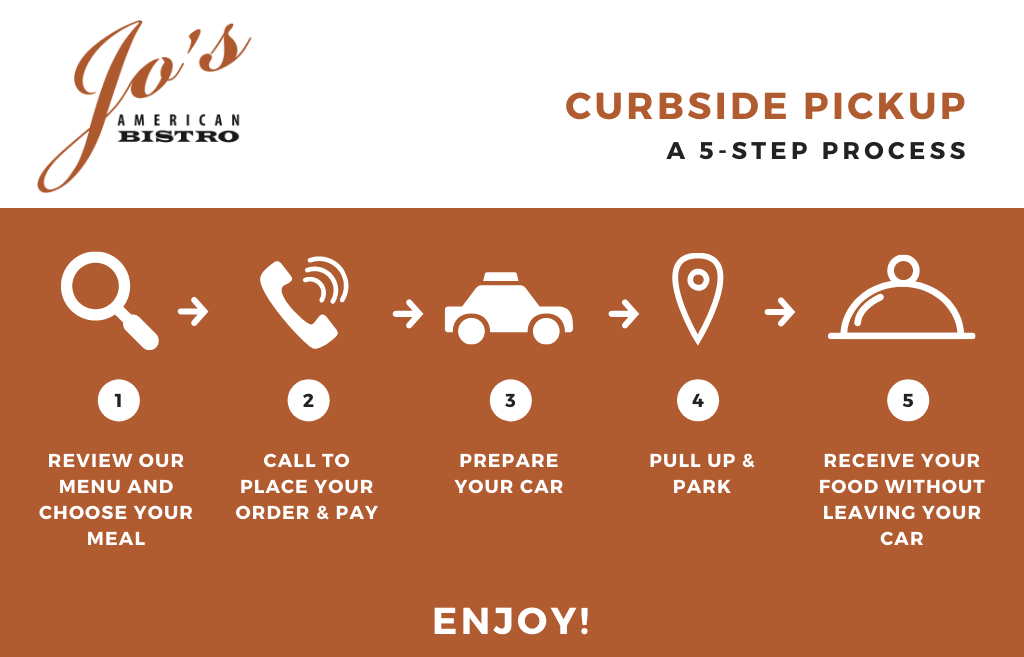 Ready to order? Call us at 401-847-5506.
Want more information on our curbside pickup process? See below.
---
How Jo's Curbside Pickup Works
Step 1: Choose Your Food
Review our current menu and select your starter, entrees, and/or desserts. Any dish from our menu can be enjoyed at home.
Our prix fixe menu is also available for curbside pickup without a beverage for $21.95 from Sunday to Thursday all day.
Need a recommendation? Our staff is happy to help! Give us a call at 401-847-5506.
---
Step 2: Call to Place Your Order & Pay
Once you've decided on your delicious meal, call us at 401-847-5506 and let us know you'd like to place an order for curbside pickup. Our staff will take your order and payment with a credit or debit card over the phone, and give you an estimated pickup time.
We also are accepting cash payments, but recommend credit or debit card for minimal contact pickup.
At this time, please alert us of any allergies your party may have and which dish(es) that individual will be enjoying. Orders prepared with allergies in mind will be bagged separately from other dishes with a red allergy alert message on the bag.
---
Step 3: Prepare Your Car
To ensure a safe pickup for you and our staff, please clear a spot for us to place your order in your trunk or back seat.
---
Step 4: Pull Up & Park
When you arrive, pull up and park in front of the restaurant at 24 Memorial Blvd W. Give us a call at 401-847-5506 to let us know you've arrived.
Picking up on foot?
Upon arrival, you may either come inside and let the hostess know you're picking up takeout or call us at 401-847-5506 and let us know you're waiting outside.
---
Step 5: Receive Your Food
A staff member will bring your meal out shortly. Napkins, utensils, and any requested condiments will be provided.
---
Step 6: Enjoy!
Head home and dig in! Tag us on Instagram or Facebook to share your meal with us.If you enjoyed your meal, please leave us a review on Yelp, TripAdvisor, or Google.